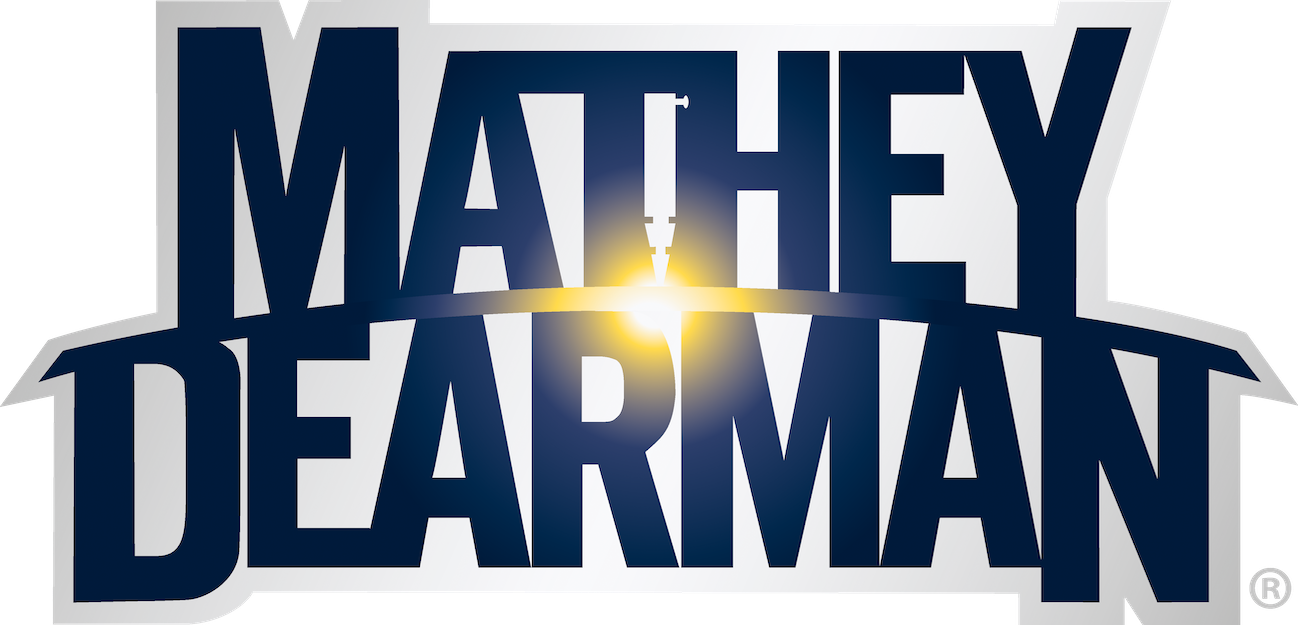 Makers Of The World's Finest Pipe Cutting,
Beveling, Alignment & Rigging Equipment
Mathey Dearman was originally founded in the United States in the 1930's and is headquartered in Tulsa, OK. During the first decades, founder C.A Mathey developed patented saddle-type portable pipe cutting and beveling machines and clamping, pipe alignment and reforming systems for pipes. Mathey Dearman rapidly became a worldwide recognized authority in pipe rigging equipment and is still today setting the benchmark and being the point of reference for many applications.
With the merger in 2019 of B&B Pipe and Industrial Tools LLC (USA), Mathey Dearman Inc. (USA) and TAG Pipe Equipment Specialists (UK) and the recent addition in 2022 of AXXAIR (France) into Specialized Fabrication Equipment (S.F.E.) Group, the various product groups offered by the original manufacturers have been realigned and integrated into the overall S.F.E. Group range of pipe cutting and pipe alignment equipment while keeping their own brand identity.
The Mathey Dearman brand portfolio consists of a comprehensive range of pipe fitting equipment, pipe flame cutting and beveling machines, pipe alignment and reforming clamps, pipe rigging equipment and Fit-Up Pro's range of fit-up, alignment, layout and marking tools.
With the Mathey Dearman brand, S.F.E. Group not only wishes to highlight the focus on this particular product line of pipe cutting, beveling, and alignment machines, but also supply the growing demand and diverse applications in the industries that it already serves and intertwine with other product applications within S.F.E. Group.
As an OEM and backed with over 80 years of development, S.F.E. Group prides itself on being renowned for its innovations, ground-breaking developments and creative designs within the Mathey Dearman product range. With its engineering capabilities, customer-oriented focus and flexibility, the Mathey Dearman brand provides the possibility to design out-of-the-box pipe machining and tooling solutions to fulfill customers' projects' specific needs in particular and to cater for an ever-evolving industry in general.
Mathey Dearman pipe beveling, cutting, alignment and rigging products are available from the international S.F.E. Group branches on four continents, as well as from S.F.E. Group's extensive and continuously expanding global network of partners and distributors. Get in touch for all your piping applications!
Where there's pipe, there's Mathey.
 

Specialized Fabrication Equipment (S.F.E.) Group was founded in 2019 after the merger of three world leading OEM's in the field of pipe fabrication equipment, tooling and machinery: B&B Pipe and Industrial Tools LLC (USA), Mathey Dearman Inc. (USA) and TAG Pipe Equipment Specialists (UK). In 2022 the AXXAIR Group (France) was acquired and in 2023 respectively Magnatech LLC (USA) and Climax Portable Machining & Welding Systems LLC (USA) were added to the S.F.E. Group.
The S.F.E. Group is formed with the vision of merging various fabrication tool businesses and brands together to offer the world's most comprehensive range of orbital welding, pipe fabrication, precision engineered applications and cutting solutions for a wide variety of industries. S.F.E. Group's unrivalled offering of complementing industrial tools is brought to its customers all around the world through its expanding global presence and extensive partner network (250+), offering an unmatched level of local availability, support and service.
S.F.E. Group looks forward to welcoming you into its global network as a partner, distributor or end user customer and remains at your disposal at any time.
---
S.F.E. Group is pleased to announce the acquisition of CLIMAX Portable Machining & Welding Systems, based in Newberg, Oregon, USA.
(October 2023)
Press release available in the following languages:
ENGLISH     |     FRENCH     |     GERMAN     |     ITALIAN     |     SPANISH

---
S.F.E. Group is pleased to announce the acquisition of selected assets of Magnatech, LLC, based in Granby, Connecticut, USA.
(May 2023)